Uncover Hidden Gems of San Antonio
Do you want to experience something unique during summer but need more time or money to go away on a long journey? Can't think of what to do? Leave it to RGV Tours to plan that unique tour for you to experience a fantastic tour to San Antonio for you to enjoy!
Join the exciting trip to the hidden gems of San Antonio, and you don't even have to drive there. Just sit back and relax. The journey takes you from McAllen to San Antonio and is an adventure in itself. RGV Tours understands that comfort and convenience are paramount, providing a luxurious coach that ensures a relaxing trip. For one day, you can leave behind the bustling city of McAllen and enjoy the ride to the gems awaiting you in San Antonio.
Tour Details
The luxury bus leaves at 5 am and returns the same day at 8 pm to drop you off at home at about 11:30 pm. Halfway there, you will have a quick stop to get coffee and refreshments.
Then at 9 am, you will arrive! Where? You can choose between two stops:
1) Sea World or 2) Six Flags.
Each trip requires a minimum of 15 passengers – so invite family or friends to join you for the day!
OPTION 1: What to expect at Sea World
Located in the heart of San Antonio, Sea World is a captivating marine theme park that offers an array of exciting and educational experiences for visitors of all ages. From thrilling rides to awe-inspiring animal encounters, Sea World San Antonio promises a day filled with unforgettable adventures. Let's dive into some of the must-try activities that will make your visit to Sea World genuinely remarkable.
Discover the Marine Life Up Close
You can marvel at the marine exhibits up close at Sea World San Antonio. Experience the ocean's wonders by observing the dolphins and even have an opportunity to join the in-water dolphin interaction. Learn about these magnificent creatures' behaviors, habitats, and conservation efforts dedicated to protecting their natural environment.
SeaWorld also has the deep sea's most fearsome predator – the Orca! Watch a presentation about their habits and behavior and see them play, which is an essential part of the Orca's lives.
Then there is the Beluga Whale Encounter, one of the most inspiring shows that will take you face-to-face with this enchanting marine animal. Touch one of these animals, take photos and have keepsake memories and information.
With their beautiful eyes, the Penguins will transport you to the Antarctic, waddling into your heart. The trainer will give you insight into this unique species.
But remember the sharks! You can get a tour of these powerful predators and learn all about them from the instructor. And if you're brave enough – you can even touch one!
Prepare for laughter and amazement as you witness the charm and talent of California sea lions and playful Asian otters. Watch these clever animals perform comedic routines and impressive tricks. This entertaining show is perfect for families and promises an unforgettable experience of laughter and joy.
Thrilling Rides for little ones
At SeaWorld, there is excitement and thrills too. Strap your little one into a colorful boat seat on Abby Cadabby's Rockin' Wave and hear them laughing and enjoying the fun. The Sesame Street-themed ride is a Grover's Round-up and should be part of your day. Join your little one on this ride to meet with all the friends from Sesame Street and take photos with them! SeaWorld offers them a simulation of a dolphin's rise and descent in the water on colorful figures at Elmo's Dolphin Dive that you must experience with them!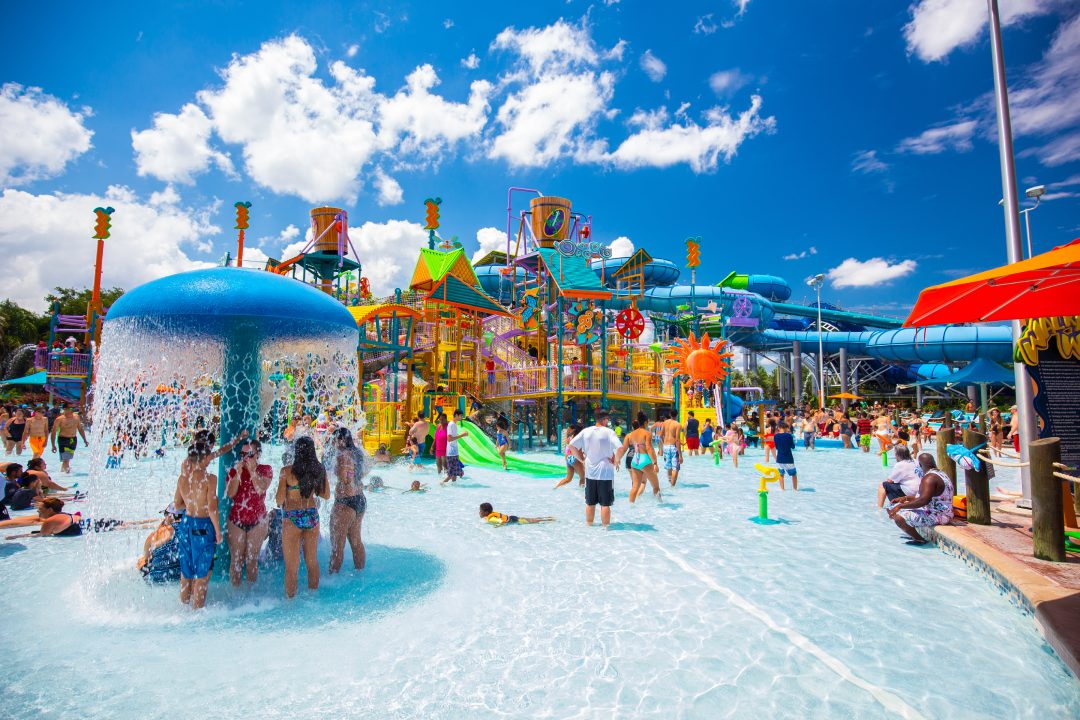 Thrilling Rides for Adults
The adults are included when it comes to thrilling rides! You can choose the Catapult Falls – the world's first launched flume coaster with the steepest flume drop! Or what about the longest, tallest, fastest wooden coaster in Texas – The Texas Stingray? There is another hypercoaster – the Steel Eel – with a vertical drop of 15 stories and many more rides to choose from! Challenge yourself and get onto all of these coasters!
Discover a range of dining options from sit-down restaurants with BBQ, pizza, burgers, and plant-based meals or snacks you can buy from the many kiosks around the park. Various dining experiences are offered, such as dining with Orcas, the characters from Sesame Street, or many other famous characters you will meet at SeaWorld. Look at the choices available and decide which restaurants you will visit to treat yourself.
To remember this memory with your family, you can always go to the shops to buy memorable SeaWorld-branded souvenirs. Get that special gift from one of the many shops, or anything you need for the day you didn't bring along is available there.
A trip to Sea World San Antonio can be that special event you want to experience with your family and friends. Don't miss out! RGV Tours will arrange everything and transport you there in luxury while you relax and enjoy!
OPTION 2: What to Expect at Six Flags
The other option you can choose from on this unique tour is Six Flags  San Antonio – the Thrill Capital of the World. Here you will find 20 world-class roller coasters, games, attractions and more for the whole family to enjoy.
The adrenaline rush you will get from the Roller Coaster rides such as the Superman, the Dare Devil Dive Flying machines, Diabolical Cliffhanger, Goliath Roller Coaster, The Joker, The Iron Rattler, and many more will allow you to experience an ultimate thrill for the first time. Here you find some of the fastest, tallest, wildest, most incredible, and most thrilling rides in the U.S.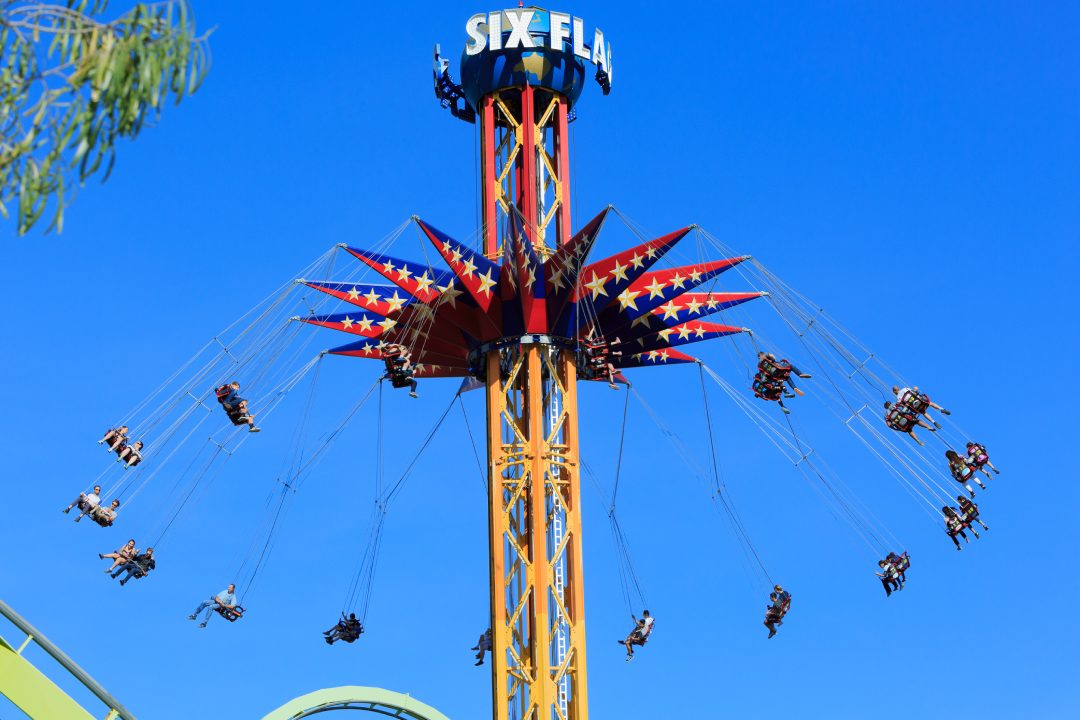 Family Fun with Little Ones
At Six Flags, there are also many family-friendly attractions. Kidzopolis, you can take your little ones on scaled-down versions of the classic rides. On Bucking Bronco's, they can experience life at the rodeo with a bouncy junior tower lift to get a great view from the tall trees over the park. Then they come down again in a shaky, jiggly ride. Or go to Daffy Duck's Bus Stop to ride on the bus with the crazy Daffy Duck in charge of the colorful bus. This bus ride is mainly for the littlest ones to experience a wild, magical ride while tucked in nicely on wide seats. They can see the school football game scenes through the window and experience the bus flying through the sky! At Foghorn Leghorn's Barnyard Railway, take them to the barnyard for a mild ride on the train in any of the mini seats in this three-car choo-choo. Then they can enjoy the countryside on this gentle ride on an old-fashioned train. New rides are also available from summer 2023. The single racing-rail roller coaster Cosmic Coaster and Ripgurl is opening in San Antonio Hurricane Harbor. And, of course, the spinning cups at Kinderstein, the convoy of cars on Rambling Road, the giant cartoon-colored pirate ship with a slide at S.S Overboard Play Zone or the streamliner Sky Searchers from where you get to climb high and see the par, and much more entertainment with safety but still a thrill for little ones. The famous Fiesta Bay Boardwalk's charming carousel, Ferris wheel, cannot be left out.
Live Entertainment throughout the day will allow you to sit down and watch the talented performers' captivating acrobatics and stunning performances. Catch the dazzling parade that marches through the park with colorful floats, energetic dancers and beloved characters.
Shopping and Eating at many stores and shops available anywhere in the park. From buying your memoirs to snacking candy or sitting down for a family meal. All you need to do is enjoy the day!
Do not waste time, and contact RGV Tours now. We will give you all the information about payment, tickets, travel arrangements and everything else we do on your behalf so that you can enjoy this unique tour of San Antonio's hidden gems!