How to Choose the Perfect Charter Bus Rental in McAllen, Texas
Are you thinking of an outing for a group? Whether it is a work party, a school field trip, a personal trip, or whatever the occasion,  Getting a charter bus can provide excellent transportation for areas from McAllen, Texas. With their experience, commitment to customer satisfaction, and state-of-the-art buses, this is the top choice for the charter bus to provide peace of mind in transportation.
Apart from packing your bags and enjoying the ride, there are a few things to do! The qualified personnel will support you in booking the best charter bus for your trip. With that done, all you need to do is get on board with your party and the experienced drivers behind the wheel will take you safe and sound to your destination.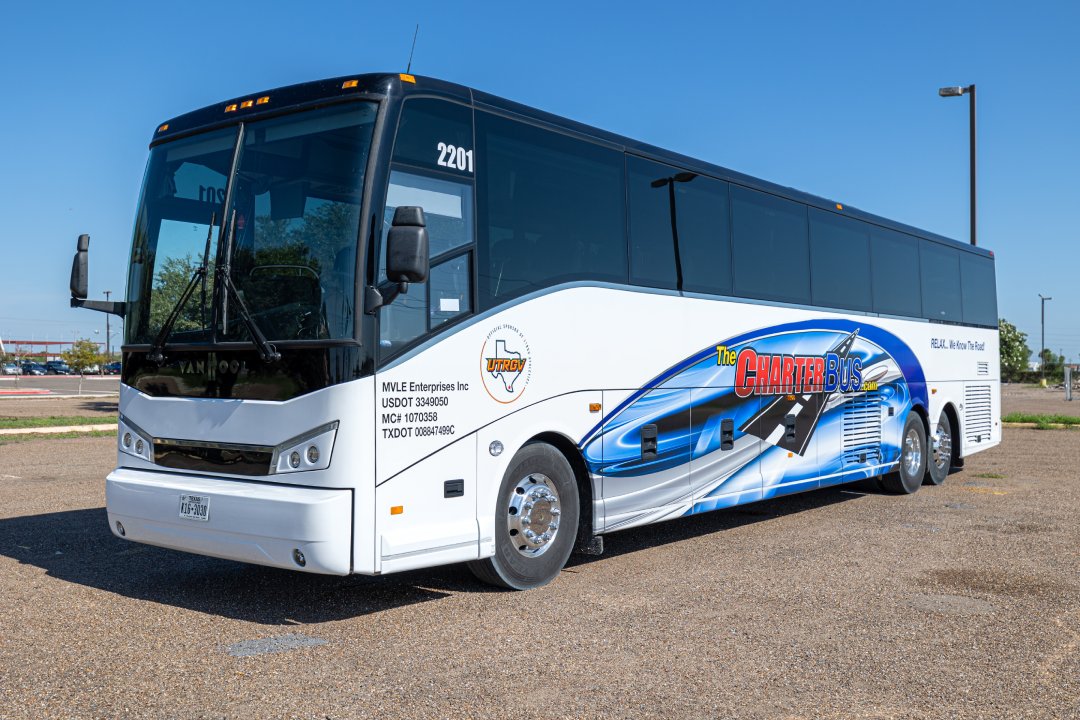 What you need to do to book the charter bus:
Determine the groups' needs
To find the best charter bus for your outing, determine your specific needs.
How many people will be travelling with you? There are different-sized charter buses available, and you should know the size and ages of your group. If it is a group of older adults, you must provide them with different options than teenagers on a field trip. The bus size has to match the number of people joining you on this trip to ensure you cater for your company's comfort on this ride.
Destination and route: Depending on how you will travel and the length of the trip, some routes will require the charter bus with extra amenities. Reclining chairs, entertainment, and onboard restrooms could make the passengers more comfortable for a more extended trip. The route might include a stop-over where the passengers can get off and on without a problem and provide space for storing souvenirs bought at these stops.
Charter buses to select: Charter Bus has three options available. Depending on your group's size and the route, you can choose one of the following:
50 – 56 Passenger Bus
This charter bus accommodates large parties for weddings, school trips, businesses, churches, and any big group you plan the trip for. This bus offers comfortable seats with plenty of legroom, an onboard restroom, a PA system to keep your travelling group updated on the route, five monitors, a DVD player and three baggage compartments. The seats have 3-point seat belts, a power outlet and Wi-Fi, providing relaxation and safety. Designed for luxury and comfort while travelling in an airconditioned bus with all equipment needed to keep the passengers entertained.
40 Passenger Mini-Bus
This bus is ideal for the smaller group of up to 40 people. It offers a restroom, leather seats, 3-point seatbelts, power outlets, and AC. With a PA system and DVD Player, you can keep your company entertained and updated. The baggage compartment is designed to carry all baggage for the passengers. Take a smaller group in comfort to any destination, in luxury, with their safety and comfort ensured.
12 – 15 Passenger Sprinter
For 15 people or fewer, this is the ideal luxury choice. The spacious seats with 3-point seatbelts provide comfort with the AC and keep all passengers in contact with the rest of the party to get going on the road. A Smart TV with Blu-Ray or DVD or HDMI and Wi-Fi can keep the group entertained and informed. Power outlets provide space to charge phones, and the PA system helps amuse or inform the group. This method of transport is the ultimate for driving a group of friends to a venue for a birthday party, bachelorette, or extended family breakaway. Travel comfortably with those you want to have close to you to enjoy the fun planned.
Your Next Step:
Decide on the bus you will need, considering comfort and convenience.
Plan your itinerary. If you are considering including exciting stops on the way, contact RGV Tours, who can assist with the best ideas.
Contact Charter Bus and let us know when, how many and where you plan to go.
Secure your booking, pay a deposit, and we will do the rest, eliminating your stress.
Contact us or Visit the webpage for more information in the FAQ section on refunds and cancellations, paying in instalments, booking online, and any other questions you might have to make this exciting trip, your dream, come true.